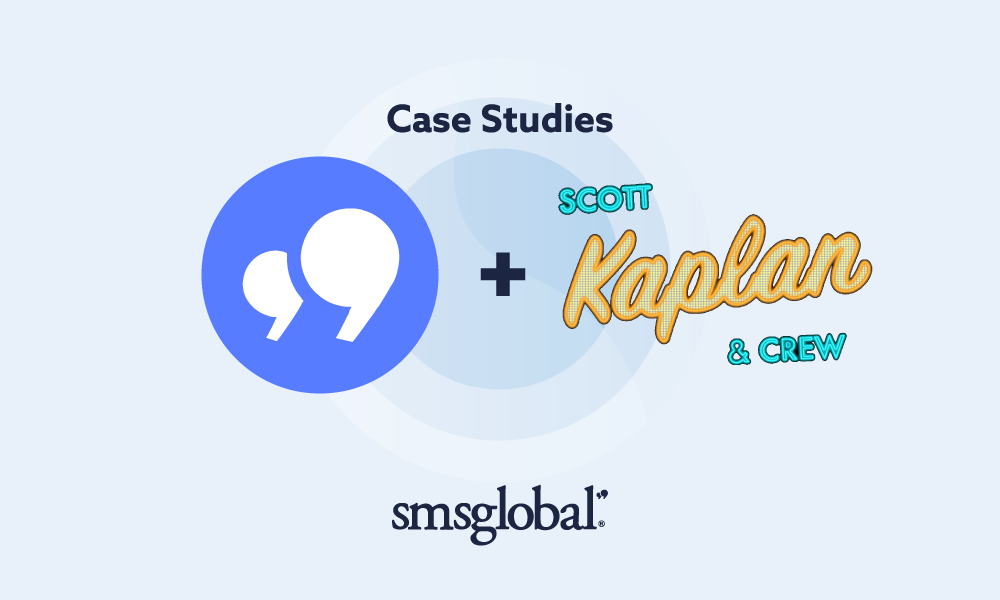 SMS notifications increase engagement and interaction for Kaplan & Crew's radio and TV shows

The results using SMSGlobal's SMS notification service:
Increased click-through rates compared to email
Open-rate and engagement has increased with SMS
Higher engagement metrics have helped them gain more sponsorships
Who are Kaplan & Crew?
Kaplan & Crew are a well-known radio and television show located in San Diego, America. With content based around sports, Kaplan & Crew broadcast their show throughout Southern California to thousands of audience members.
The Kaplan & Crew show airs every day from 3-7 pm on The Mightier 1090 AM. The show has a small staff base of about ten people, including its hosts Scott Kaplan, Alex Padilla, and John Browner.
The show is incredibly popular across its radio segment, podcast, and TV show. Aired during weeknights on the YurView network, the Kaplan & Crew Tonight TV Show is the newest addition to their broadcast roundup and is aired during weeknights on the YurView network.
---
What was the challenge?
Radio shows have incredibly high KPIs around listenership and engagement, which means it's vital they use communication channels that cut through. It is critical that they get their message across and encourage their audience to engage with the show's content.
With the show broadcast across multiple platforms, the Kaplan & Crew team found it difficult to capture their audience's attention and encourage interaction effectively. In addition, generating engagement on their social media channels also presented a challenge.
"We wanted another way to notify our audience of when we posted new material to our social channels or website," explains Alex Padilla.
They began sending email notifications and reminders to see if there was an uptick in engagement. However, trialling emails seemed to yield little results over time. Alex and the team weren't satisfied and knew they needed to find a more effective communication channel.
"Seeing our stats to our email list and how the click rate was minimal, we wanted to try something more direct to the audience."
Related: "SMS Engagement: How to maximise the engagement of your SMS messages"
---
The solution: text message reminders
It soon became apparent that Kaplan & Crew needed to start using a more direct and attention-grabbing communication method.
"We wanted a service that more people would actually open. Email was not working for us."
Email notifications have a notoriously low open rate as inboxes are often overcrowded. This can make it difficult to get emails opened, let alone read. In fact, only 22% of emails on average are opened, leaving many timely emails unactioned.
In August 2019, the SMSGlobal team in the US reached out to Kaplan & Crew. As fans of the radio and TV shows, our US team recommended the use of SMS alerts and notifications.
"[They] explained to us all the benefits of the service. [They're] personal touch made it seem like we were working with a friend instead of a client."
Laying out the data and comparisons to email helped the Kaplan & Crew team understand the benefits of SMS. It's hard to ignore the 98% open rate of text messages compared to email's 22%. These figures convinced them to try out SMS in their marketing strategy.
Given that their objective was "to be in the hands of [audience members] at a moment's notice," trialling out SMS was a no-brainer.
SMS MARKETING THAT GUARANTEES RESULTS
Claim your 25 free SMS credits today
Create a free SMSGlobal account and unlock the potential of SMS notifications to uplift engagement
Implementing SMS notifications at Kaplan & Crew
Kaplan & Crew uses SMSGlobal's MXT SMS platform to send out daily text messages. Their Executive Producer schedules and sends the texts before a show and whenever they need to notify their audience.
Accessible from their web browser, our SMS service is ideal for reaching the hands of their audience immediately. Directing Kaplan & Crew SMS subscribers to the Youtube channel, podcast page, and recent social posts via URL links.
Alex says, "it has actually become a recurring bit on our show that our shows don't start until a text is sent."
---

The results: how SMS reminders increase engagement
Since using SMS notifications in their communication strategy, Kaplan & Crew have noticed a dramatic increase in their open rates.
"The click rate of our emails was minimal. Through text, we have seen a jump in interaction."
The introduction of SMS has not only benefitted their engagement rates but opened more opportunities to the business as well.
"The high open rates and SMS metrics have helped us gain more sponsors. We are able to show how in-touch we are with our listeners."
What has most impressed the team since implementing text message notifications?
"How [recipients] respond to texts. When we used to send an email, we never got much, if any response. Now it is an immediate jump in interaction post-sending a text."
---
Any future plans for SMS?
For now, Kaplan & Crew are looking to continue optimising and improving on their current SMS strategy. Including building upon their SMS subscriber database and growing their listenership.
While SMS has given them a direct line to their audience, Alex and the team believe they can expand their reach even further.
"We would like to have more people sign up for our text. But once we get more and more, then we will achieve [our] goal."