SMS Engagement: How to maximise the engagement of your SMS messages
Businesses are constantly looking for more effective ways to market products and services to potential customers. While digital marketing is a massive field, specialised methods such as business SMS messaging have become essential.
So how exactly does a business take advantage of SMS marketing to maximise customer engagement? You're about to find out. In this article, we will discuss different methods for using SMS to increase customer engagement.
---
Introduction to SMS marketing
First of all, let's start by going over the basics of SMS marketing. SMS marketing refers to sending text messages to customers, or potential customers, persuading them to buy a product or a service.
It's about establishing a connection with the customer and fostering a positive image of your brand. Strategic text messages sent via SMS integrations and platforms encourage your audience to talk about your business and entice them to make purchases.
Related article: What is bulk SMS marketing? [Explained]
Use cases for SMS marketing
SMS marketing campaigns are the driving force behind countless customer engagements. By designing and executing SMS marketing campaigns, businesses can prompt customer engagement when announcing:
discounts and promotions
events and updates
new product releases
SMS marketing boasts a 45% response rate compared to only an 8% response rate for email. The higher response rate may be due to people spending more time online on their mobile devices than on their desktops.
---
How and when to use SMS for marketing to engage customers
As long as you use it properly, SMS marketing works wonders. Engage customers with simple SMS communication, including:
Personalised Texts
SMS Reminders
Conversational SMS
Omnichannel communication
Personalised text messaging for customer engagement
The key to making your SMS marketing more engaging is to effectively use personalised text messages. Personalised text message marketing is one of the most effective strategies for promoting last-minute deals.
By generating personalised texts in bulk and informing customers about last-minute deals, you can see a significant jump in sales, leads and customer engagement. The trick is to make it sound natural. Personalisation can add a sense of trust and urgency without being over the top.
SMS reminders and notifications
Another practical use to build engagement is to send reminders about an upcoming event. For example, you can automate an SMS reminder from a webinar platform a few days before an online webinar that the person has signed up for.
People live busy lives, which means it pays to send reminders for important events. You'll have much higher attendance when sending reminders than if you were to not send any reminders at all. Timing your texts is the key to high SMS engagement.
Conversational SMS
Two-way text messaging is an effective way to communicate directly with clients and customers. Even if it is just to confirm an appointment, two-way SMS is an essential tool to have in your communication toolbelt.
Texting stories is another way to leverage SMS marketing to engineer engagement and increase sales. You can create text conversation videos that look just like two people talking back and forth. When used effectively, you can use texting stories to grab attention and go viral.
Omnichannel communication with business text messaging
SMS messages can work in isolation, but often customers prefer to be contacted via several different channels. Engage with your customers and keep them interested with follow-up tools such as call centre software.
IMPROVE YOUR SMS ENGAGEMENT
Speak to our SMS Specialists and enhance your SMS engagement rates with our SMS Gateway
Book a live demo with our SMS experts to optimise your communication strategy today.
---
How to reduce low SMS engagement in your marketing campaigns
One thing you should know is SMS marketing can backfire if implemented incorrectly. Some companies overshoot their strategy and start texting customers too often. When SMS marketing goes awry, it's pretty disruptive.
Frequent messaging can be annoying
One thing you should avoid is sending multiple SMS reminders over a short period. In most cases, a single reminder will suffice. Never get in the habit of sending multiple text messages a day to a single customer, as your frequent texts will likely turn them off.
Schedule SMS and build text message workflows to push messages at the perfect moment, so you don't have to worry. Set specific sending times to ensure you don't send an SMS blast to your contacts at an inappropriate time.
SMS opt-outs
Texting customers daily encourages them to respond with STOP to opt-out of SMS communication. It's the same as a customer choosing to unsubscribe from newsletters and promo emails. This is the last thing you want.
Manage opt-outs automatically with our MXT gateway to ensure you send compliant SMS campaigns to your audience.
Related article: The Ultimate Guide to SMS Marketing
---
Analyse the results and adjust accordingly
Use reporting to analyse your SMS performance and optimise future campaigns. Retain your customer's attention and stay in their good graces with tried and tested SMS marketing tactics. Personalise your text messages and target your audience for positive customer responses.
Improve your text message marketing
You can learn a lot from how customers engage with your texts. Test out different SMS message lengths, tone of voice, and wording to see what works best with your customers.
Another thing to consider is when to send to your specific audience. Analyse the perfect timing of which days and times suit best for sending the text messages.
Track SMS campaigns success
Track the success of different SMS text messages by using unique discount codes. By generating specific promo codes, you can track the precise SMS text message campaigns that engage most customers.
As you develop your SMS marketing campaigns, you can tweak your strategy to promote the best responses from your customers using MXT reporting.
---
The advantages of SMS for marketing
SMS marketing is a primary communication strategy used to complement SMS eCommerce marketing. If you have an eCommerce store, SMS marketing should be a part of your customer engagement strategy.
The advantages of eCommerce SMS marketing include:
increase in customer engagement with two-way texting
faster conversion rates with SMS updates and reminders
brand exposure with product launches and SMS promos
SMS marketing gives you a direct line to your customers. When done correctly, the power of SMS can supercharge your marketing strategy and business communications.
---
In conclusion
SMS messaging is a highly effective method for increasing customer engagement and maximising new brand awareness. Businesses that utilise SMS engagement tactics and embrace SMS marketing will find that their customers are more responsive over time.
Send bulk text messages to your customers with SMSGlobal. Our online platform makes it easy to connect directly with contacts using SMS. Learn more about the advantages of SMS marketing and start increasing customer engagement today with SMSGlobal.
Related article: Mobile and SMS marketing strategies dominate, here's why
---
This is a guest post written by Erkki Muuga.

About the author: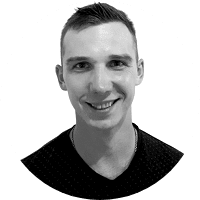 Erkki is the creator of WebinarSoftware.org, a blog dedicated to help marketers, coaches and start-ups leverage webinars to grow their businesses. Having over 5 years of experience in building software either as a founder or a product manager enables him to give deep and thoughtful insight in his blog.