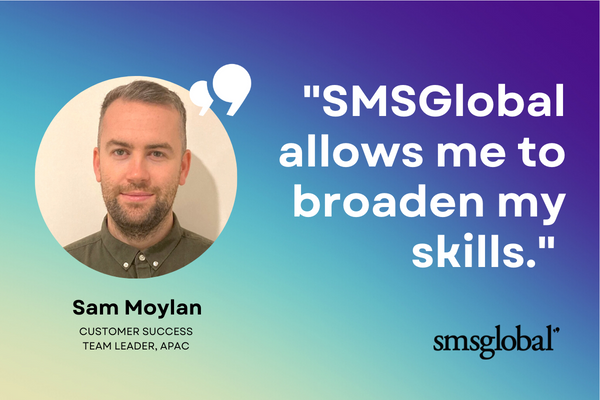 Team Spotlight: Sam Moylan
At SMSGlobal, our people are what make us a great company to work for. We're excited to share with you one of many future Team Spotlights at SMSGlobal. Meet Sam Moylan, our Customer Success Team Leader at Melbourne HQ. Find out more about Sam, all things team engagement, SMSGlobal career paths, fun facts and more.


Sam, how long you've been with SMSGlobal?
I have been with SMSGlobal for almost five years, since June 2018.


What is a fun fact about you?
When I first moved to Australia in 2017, I spent a few months on a dairy farm milking cows as part of the regional work we needed to do. I may have left that off the resume when applying at SMSGlobal 🙂


Tell us about your journey with SMSGlobal. Why do you choose to work here?
Previously, I had experience in sales with Vodafone and with an energy company back in Ireland. However, I wanted to take a step into tech sales. I was intrigued to learn about the SaaS industry and grow my overall sales and customer service skills in a new and ever-growing environment.
When I started at SMSGlobal, I commenced my role as an Inside Sales Representative, then Tech Support, and now I am the Team Leader for the Customer Success Team in Australia.
SMSGlobal was the perfect choice for me to work here.


What does your job entail?
As a Customer Success Team Leader for Asia-Pacfic, I look after our VIP partners. I also ensure that I train my team for phone and online meeting sessions. I troubleshot any issues and provided solutions and support for my team. I also manage the customer relationships and identify their needs to improve and exceed their expectations.


What do you love about working at SMSGlobal?
It is a small-knit office here in Melbourne and everyone is friendly.
All departments are close by and work together really well - something you don't always get in a big corporate office.
SMSGlobal also allows me to broaden my skills. From a tech support team member, I was promoted to tech support team leader within a short period. Now that I've added tech support to my sales background, I was trusted with the account management of our VIP partners. SMSGlobal has enabled me to take the next step into a team leadership role.


What do you do in your spare time?
I play football aka soccer for a local team and we train twice a week and have matches on Saturdays. I am a proud Frenchie father to a 2-year-old French Bulldog named Frankie. I enjoy spending time with my girlfriend and having some beers with my mates.


To discuss SMSGlobal partnership opportunities, get in contact with Sam today at 1300 883 400.