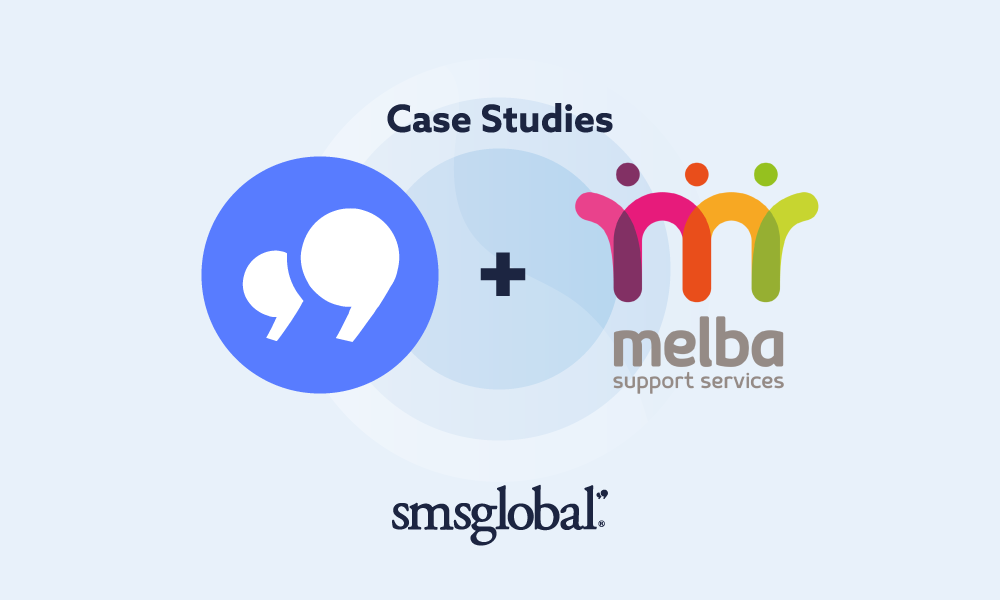 Melba Support Services harnesses the power of SMS alerts to streamline workforce management and rostering
The results using SMSGlobal's SMS platform:
Allocates vacant shifts promptly
Streamlines admin roles
Improves communication bottlenecks
Melba Support Services is an Australian organisation providing disability support and services in the healthcare sector.
Operating for almost 50 years, Melba provides support for people living with a disability. Empowering people with a disability to live the life they want. Since its inception in 1972, the organisation has grown into an extensive network, supporting around 2000 people with disabilities.
With 1800 staff across Victoria, Melba's services span Gippsland, South Melbourne, Ballarat, Central Highlands, and beyond. Whether their team is providing at-home care or supporting the broader community, Melba is committed to upholding the human rights and individuality of those they work with.
---
What was the challenge?
Given their large and diverse workforce, coordinating shifts presented many administrative challenges. The nature of shift-based workforces often involves an ever-changing roster. And, of course, managing timely shift replacements in the event of staff members calling in sick.
In 2019, the Department of Health and Human Services transferred 73 of their disability accommodation services to Melba. Since this change, Melba's management of shift work became more complex and involved.
Outcomes Manager at Melba Support Service, Kelli Stringer, said, "contacting multiple staff at once and usually on an urgent premise" was critical to efficient and timely operations.
---
The solution: SMS shift alerts and two-way texting
With their staff and client base quickly expanding, the Melba team realised they needed to think of creative solutions to contact staff and fill vacant shifts en masse.
The right solution needed to be easy-to-use and seamlessly fit within their processes. At the same time, allowing them to free up time and resources across the board. Melba's team decided that SMS alerts and two-way messaging were the right solutions to meet their needs.
Given that the average response time from an SMS is just 90 seconds, organisations like Melba can confirm and fill shifts almost instantly via text message.
POWERFULLY SIMPLE SMS ROSTERING ALERTS
Claim your 25 free SMS credits today
Create a free SMSGlobal account and unlock the potential of SMS for attendance and workforce management.
Implementing text message rostering via Email-to-SMS
Melba's Workforce Hub decided to use Email-to-SMS for their rostering processes. With SMS capabilities accessible from their email account, staff can manage incoming replies without leaving their email platform. The SMS replies are delivered straight into a shared email inbox, so the team can quickly allocate and confirm shifts.
Since implementing SMS, Melba's shift replacement team have been able to "contact multiple staff to advise them of vacant shifts." Thus, ensuring urgent shifts are filled in a timely manner.
"[SMS] allows them to respond to us (not via phone call), to advise if they were available to work that shift," explains Kelli.
---
The results using SMS for rostering
Employing SMSGlobal's online SMS platform has enabled Melba to contact high volumes of staff at once to advise of vacant shifts. The immediacy of text message alerts has ensured the organisation can fulfil their objectives of providing support to its community members.
With a 98% open rate, the immediacy and reliability of SMS allow Melba to manage attendance and rostering with as little fuss as possible.
Kelli states that the rollout of SMSGlobal has been "great in reducing unnecessary calling of staff" and minimising back-and-forth between staff members.
Not only has the implementation of SMS notifications improved shift rostering processes to guarantee prompt replacements. But it has also allowed staff in the Workforce Hub to reinvest their time back into other important work.
"It has allowed us to contact lots of staff at once and streamlined our role."