Mobile marketing recap
Was 2015 really the year of mobile marketing?
It really doesn't require a tech expert to see how mobile technology has become an integral part of the human life. All you have to do is pay attention to the people around you, many of whom, even while walking, will be entrenched in the little glowing screen emanating from their palms. Indeed, this doesn't provide any scientifically plausible hypothesis to assert mobile's dominance. The stats, however, do.
The Stats Don't Lie
2015 was the year that over $30 billion was spent on mobile advertising. It was also the year that Google announced the dominance of mobile as it surpassed the desktop in Internet search queries, and television for total time spent on a device.
Indeed, it was the year that 'mobile-only Internet users exceeded desktop-only Internet users...' said, Jeremy Nigel, director for North America at Essence Digital).
While it's staggering to think that $30 billion was spent in 2015, eMarketer predicts there is much more of this to come, with their 2016 prediction suggestion mobile ad spend will exceed the $100 billion mark and accounting for 51% of ad spend in the digital market.
Keeping in mind that four years ago, in 2011, eMarketer aggressively projected that mobile ad spend in the U.S. would quadruple from $1.2 billion to $4.4 billion by 2015…' where what actuated was that '…mobile ad spend this year was $30.4 billion, exceeding that projection by seven times, and surpassing desktop ad spend for the first time,' said Jeremy Nigel.
Statistically though, it's fascinating to note just how absurd the ad spend growth on mobile has been in the past few years, coupled with how that spend fits into the greater digital context. In 2013, mobile ad spend jumped by 117% from the previous year, bringing the dollar-figure up to $19.2 billion. In 2014 this figure jumped to $42.63 billion, an even bigger percentage increase of 122.1%.
Although these statistics are impressive, they're not overly surprising. As mobile devices become more powerful and capable, it's only natural that consumers will spend more time on them. And the more time people spend on their mobile, the more potential there is to market to them (omitting the point that it is now possible to create not only beautiful ads on the mobile device, but different types of ads, each serving a different function).
Mobile-Centric Marketing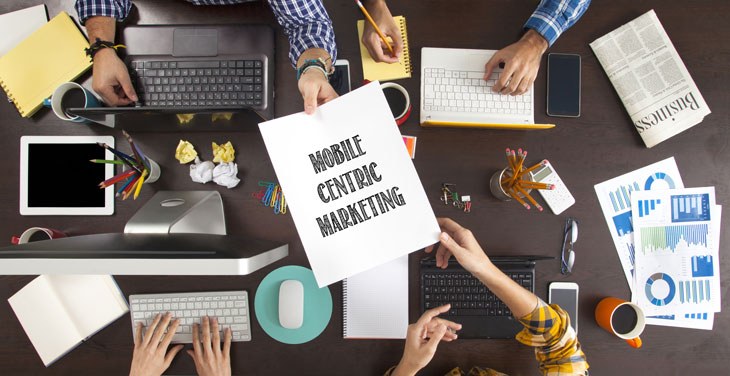 The real momentum-shifting factor that moves things toward a mobile-centric world, however, has to do with this new culture of mobile usage, a culture defined almost by its dependence. Much of our collective moments are filtered through mobile in some way or another. If we're not ordering pizza through a mobile app, we're comparing prices of television sets while we're already in a store. If we're not checking into our favourite restaurant on Facebook and tagging all the friends we're with, we're taking snaps of our food and posting them on Instagram. If we're not using Google Maps to help us navigate through foreign suburbs, we're on Skype with our overseas friends.
The organisations that are aware of these consumer habits—of this new digital mobile map upon which the modern human lives her life—are the ones in the best position to market themselves most effectively. Using mobile in a creative way that draws people into their phones and provides a real benefit for being drawn in, is how businesses and organisations must use the mobile platform if they're to successfully stand out from the crowd.
Demonstrating By Example
There were a number of organisations that stood out in 2015, with mobile marketing campaigns that demonstrated the sheer power that mobile marketing can have. Let's take a look at just a few.
Starbucks
Starbucks is without a doubt one of the leaders in this regard. The success of this giant chain started simply; they developed a mobile loyalty app, from which payments could be transacted.
Since its inception, it has developed 'into a powerful platform integrating content, payments, ordering and delivery,' (Chantal Tode from Mobile Commerce Daily). 'Starbucks' mobile prowess also includes bringing the latest technology to its app.
Most recently, Starbucks introduced 3D Touch, enabling iOS users to touch the app icon on their home screen to pay, reload a card, order, and find nearby stores.'
The reason for Starbucks success isn't easily explained, but in simple terms it boils down to this: They are using their mobile platform to 'make it easy for their customers to purchase their products'. They're 'making it easy to reward and monitor (i.e., gather data on) these purchases'. They're also 'making it easy to entertain', and more importantly, to place their brand in the forefront of customers' minds.
In simple terms, they're making it more convenient for their customers and adding value to their daily routine.
Walmart
Walmart is another retail giant reaping the rewards from its commitment to mobile. By developing Walmart Pay—their very own mobile wallet—Walmart has been able to simplify the checkout process for shoppers. It is a simple tactic, really—listen to feedback, make note of what people want, and put customers first.
Domino's Pizza
Domino's Pizza also deserves a brief mention here, for their mobile commerce program whose genius lies totally in its simplicity. How did they do it? Like this. The success of Domino's relies on one thing: pizza sales. Right? They therefore want to make it as easy as possible for people to order pizza. That's why in 2015, Domino's introduced their AnyWare program, allowing people to order… from anywhere—in a car using Ford Sync, through smart watches, smart televisions, even on Twitter using a pizza emoji and a text. Again, super simple, but super effective.
2016... The Year Of Mobile Marketing?
Considering that it's expected mobile ad spend will exceed $100 billion in 2016, it's exciting to see in which direction businesses will head, and how inventive businesses will be. As gaps in the market are sourced out and filled—as the likes of virtual reality, better location-based technology, and the leveraging of existing businesses either through collaboration or innovation (a great example of this being UberEats) improve and become more common—the mobile platform is what marketers should have their eyes on moving on into the new year.