Valentine's Day SMS Marketing Ideas
Roses are red, violets are blue, send gifts via SMS, customers will love you.
Every February 14, businesses to look to capitalise on the biggest opportunity - love. Whether retailers gift red roses to customers, more than ever, love is celebrated on and around Valentine's Day.
In 2022, research from the National Retail Federation shows that Americans spent over $23.9 billion on Valentine's Day. This is a significant increase from $21.8 billion from 2021. And that's more than the expected spend over Easter, making this a significant opportunity for retailers across a range of categories.
This begs an important question: How can retailers successfully communicate Valentine's Day with clever marketing campaigns, promotions, new products, sales and special offers to their customers?
Well, one highly effective way is by sending SMS campaigns.
Below are the types of SMS marketing and text messaging marketing that you can capitalise for Valentine's Day in 2023 and beyond.
Target Customers Directly with SMS
Why target and engage customers this Valentine's Day with SMS?
Research shows the average open rate for SMS messaging is around 98% with a response rate of 45%. If we compare this to email, which has an open rate of 28-33% and a response rate of just 6%, the choice seems like an obvious one.
Furthermore, over 90% of SMS text messages are opened within the first three minutes of being received. This allows you to execute Valentine's Day promotions quickly and effectively when it comes to last-minute offers and discounts.
Now let's look at some of the creative ways you can use this highly effective communications channel to boost sales this upcoming Valentine's Day.
Send a 'secret admirer' SMS to your customers
When in Rome, do as what the Romans do. This Valentine's Day, send Valentine's Day gifts to your customers. Send a special 'secret admirer' message to your customers using bulk SMS. A prime example is to use a Valentine's Day discount, gift with purchase or invitation to an exclusive in-store shopping experience.
Make customers feel extra special, build brand awareness for your store, and give those who aren't celebrating Valentine's Day to still have a good excuse to go shopping.
Text-to win Valentine's Day competition
This is an oldie but a goodie: Engage your customers and simultaneously build your marketing database by running a Valentine's Day text-to-win competition. You could gain thousands of new contacts over Valentine's Day, where you can then market your products to following the competition. To gain maximum traction, ensure you promote the competition across multiple channels -including in-store, on your website, via bulk SMS, and through your social media channels.
Text-to-win competitions are easy to coordinate - customers can enter by simply texting in a special keyword. A winner is then chosen at random. To further boost the number of people who enter, why not offer an incentive for participating? This could include a discount on Valentine's Day gifts or services.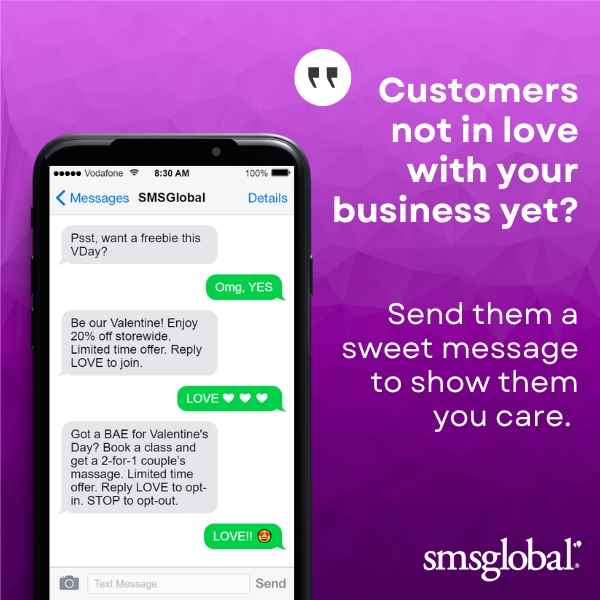 Animated Valentine's Day SMS
Design an animated Valentine's SMS that customers can send to their special someone. This is ideal for those who are looking for a low-key gesture to show a special someone. It is also a nice gesture to send a gift in advance, instead of a physical bunch of flowers on the day.
AT&T - one of the largest GSM carriers in the US - executed this perfectly a few years ago. AT&T partnered with 1-800-FLOWERS to enable users to SMS a free virtual bouquet of animated flowers to their loved one with their 'Cupid Goes Wireless' campaign. AT&T created a link in the 1-800-FLOWERS online store which allowed subscribers to SMS virtual bouquets directly to their Valentine via SMS.
Valentine's Day flash sale
Discounts are a powerful incentive for customers. Avoid reducing the price of stock for an extended period over Valentine's Day. Conduct a Valentine's Day flash sale and discount selected Valentine's Day specific products or services for a day.
This is a great way to drive traffic to your store or website and can be promoted quickly and easily by sending bulk SMS.
Last-minute offers
You'll certainly have some Valentine's Day stock or services that have not been purchased by February 14th. In this case, bulk SMS marketing is the fastest and most effective way to alert your customers with last-minute discounts or special offers.
With over 90% of SMS read within three minutes of being received, you are almost guaranteed to get your message across quickly and easily.
For suggestions on how to choose a bulk SMS marketing provider, visit this article.
SMS gift with purchase
Send your customers an SMS coupon for a free Valentine's Day gift with purchase that can be redeemed either online or in-store. If you're a smaller retailer, this could be a coupon for a beautiful long stem rose from your local flower shop. If you're a larger retailer, you may even consider partnering with a major florist with the capacity to deliver state-wide. This is an ideal way to grow your database for future SMS marketing initiatives.
By sending a gift with purchase via SMS, shoppers have digital coupons safely stored on their ever-present smartphone, making them much more likely to redeem them. In fact, a recent study by Restaurant Report shows mobile coupons see a 1000% higher buy rate than print coupons.
Valentine's Day marketing with SMS service
Increase your retail sales and revenue this Valentine's Day or any upcoming promotions. Call our global Customer Success team on 1300 883 400 to prepare your campaigns ahead of time.