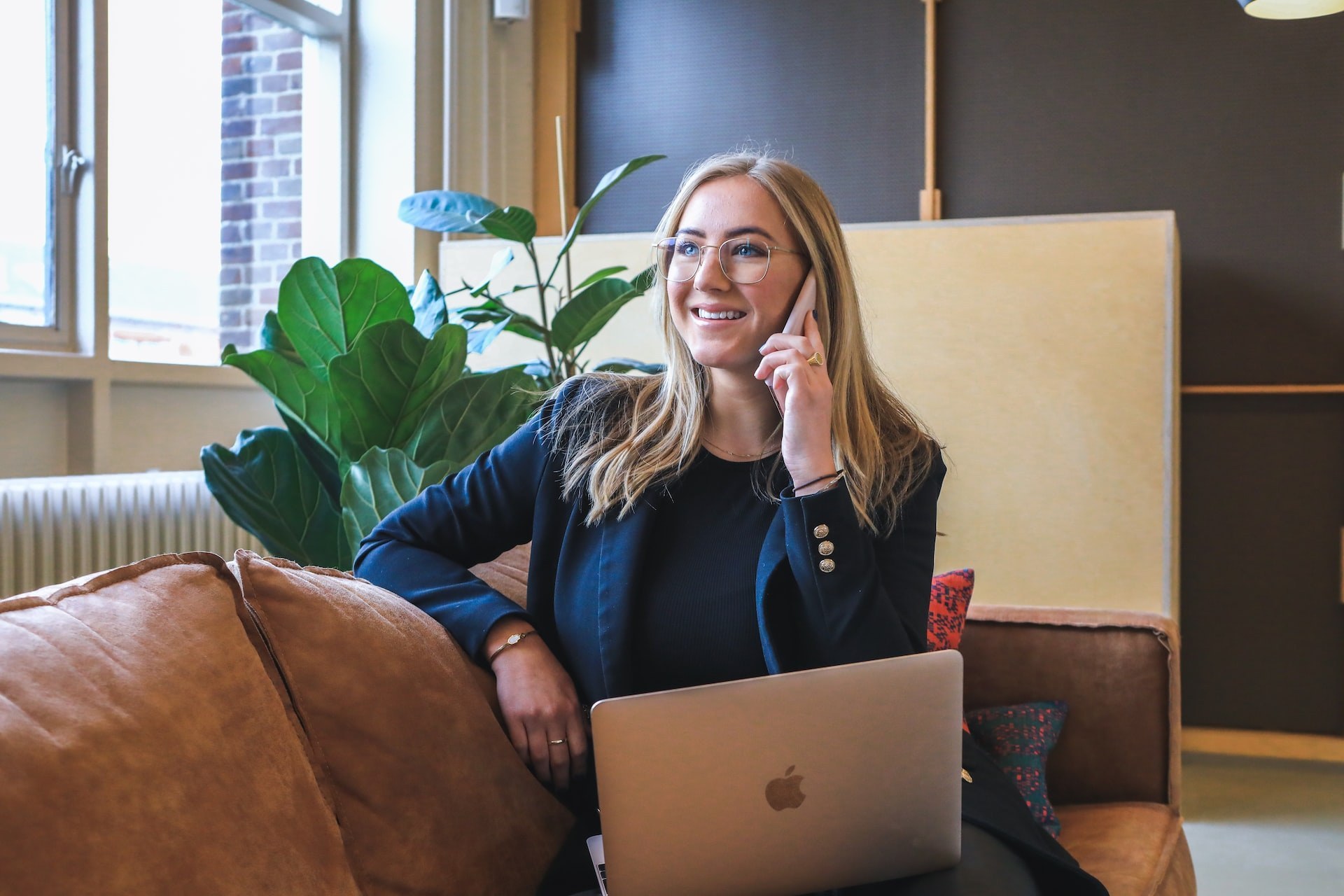 SMS Text Marketing for Business
What is the smarter way to do business? Enter the new world of sending SMS. Sending intuitive SMS using a bulk text message service provider is vital for optimal customer engagement.
Surprisingly, SMS is the most effective and user-friendly communication tool available. Sending bulk SMS messages is one of the best ways for businesses to communicate to consumers, prospects, staff or audience.
How effective is email marketing compared to SMS marketing? It might be a surprise that the average open rate for an SMS campaign is as high as 98%. In contrast, email marketing open rates at just 20%. Response rates for mass SMS marketing messages are much higher than emails as well.
Be assured that you can reach your target audience with the right SMS text message at the right time.
What is a bulk SMS service?
A bulk SMS service is an online platform that helps businesses send SMS text messages to their customers. That way, businesses can send mass SMS messages to their custom contact lists.
Bulk SMS service for enterprises allows you to create, schedule, send, respond, and track mass text SMS messages for SMS marketing campaigns.
Business managers can upload contacts from their lists, or use SMSGlobal to integrate CRM software to automate SMS marketing campaigns.
Enjoy cutting-edge features, a sophisticated interface, and seamless usability with SMSGlobal's bulk SMS platform and solutions.
What are the benefits of Bulk SMS Messaging?
Did you know 64% of consumers believe business text messaging improves customer engagement?
Now with SMSGlobal, you can tailor your SMS text messages to your business model to improve customer engagement and customer support.
SMS messages sent directly via web platform SMSGlobal MXT
Extensive library for plugins and SMS integrations
Custom solutions for your business requirements
SMS message automation and keyword trigger responses
SMS scheduling and campaign automation
Detailed campaign tracking and detailed reporting
Send unlimited high-volume SMS messages
Reliable delivery rate
Bulk SMS improves CX for eCommerce
Send SMS order confirmations immediately post-purchase to enhance customer experience
Send SMS delivery status updates to keep customers in the loop on when their products are being shipped
Send abandoned cart reminders to help retain and grow online orders
Send cancellations and refund notifications to increase customer satisfaction
Customer Relationship Management Systems (CRM)
Send SMS appointment reminders to enhance CX
Send keyword trigger responses for automation
Send payment reminders to customers for revenue growth
Send customer surveys such as improving customer Net Promoter Scores (NPS)
Content Management Systems (CMS)
SMS account verification
Custom message templates
Mobile marketing campaigns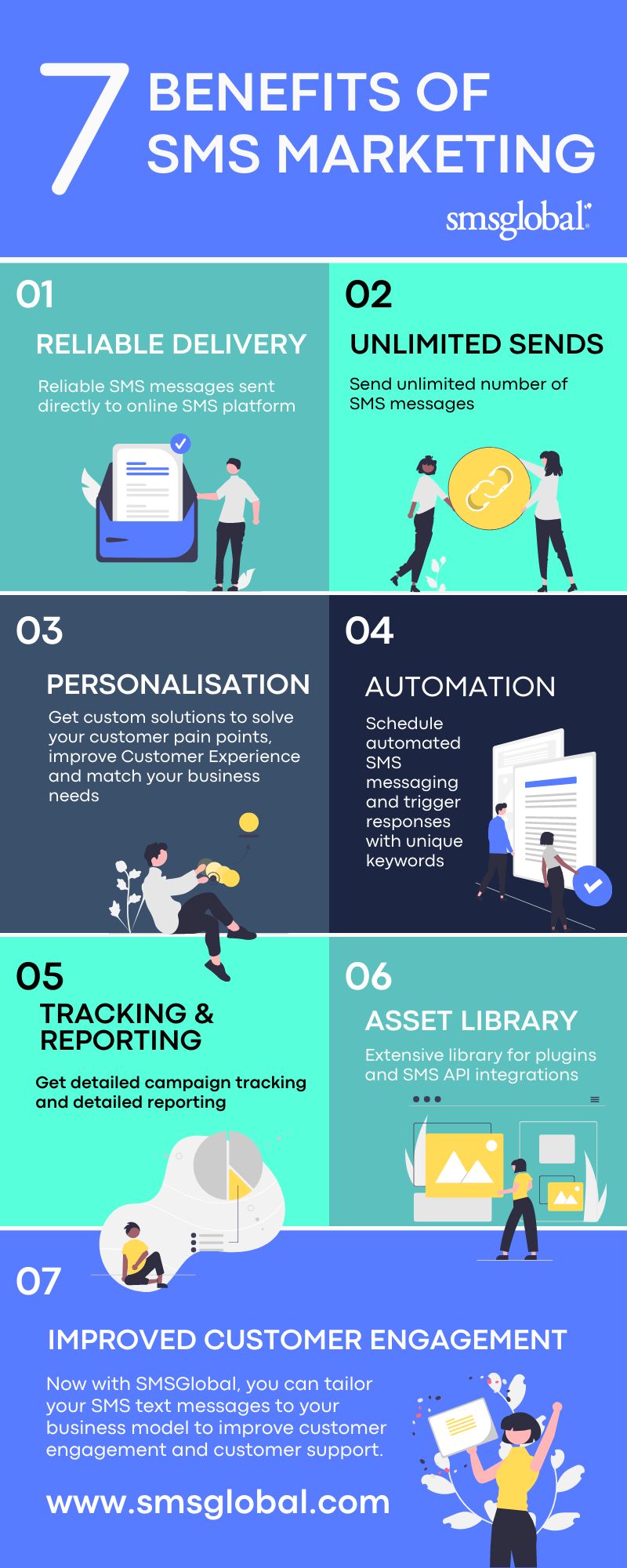 Custom SMS Messaging API for Enterprise Businesses
Large-scale enterprise companies require tailored and robust platforms to solve complex business requirements. Thankfully, enterprise businesses can amplify their marketing communications and drive customer engagement by integrating a bulk SMS messaging API.
An SMS API integration allows your business to send SMS messages with your current IT systems. An SMS API works with your CRM and CMS and automate workflows to communicate to customers.
SMS API integrations can be designed specifically for any industry such as finance, legal, education and real estate.
Using Bulk SMS for Business Contingency Planning
Security breaches, natural disasters and power outages are all events that should be a part of any business' contingency plan. Businesses must reassess their marketing and communication strategies. Business continuity must be considered.
By using digital channels such as bulk SMS text messaging, companies ensure stakeholders, customers, and staff are always up-to-date. Businesses must continue to invest in sending texts and scheduling texts for business continuity management. Communicating critical updates and organisational transformation via SMS mass text messages is essential for prompt action. Equip your business with the power of instant and direct mobile messaging.
During the COVID-19 pandemic, businesses must operate online more than before. According to McKinsey, the increase in digital services caused by COVID-19 is here to stay.
Related: 'Communicating during times of crisis'
Enterprises of all sizes can use the power of bulk SMS to engage recipients effectively. Businesses can streamline communications with bulk messaging. From marketing reporting to getting important alerts, SMS allows you to communicate directly to your customers with the right message at the right time.
Many industries use the flexibility of bulk SMS and A2P messaging for diverse communication requirements every day.

Finance
Security updates
Hacking alerts
Service outage notifications
Two-Step Verification with SMS OTP
Hospitality
Changes to business hours
Special offer notifications
Operations updates
Staff rosters
Education
School news and updates
Exam results
Emergency campus notifications
Attendance and deadline reminders
Retail & eCommerce
Changes to store opening hours
Loyalty programs
Discounts and promotions
Customer surveys
Order status and delivery updates
Healthcare
Telehealth reminders and updates
Doctor absentee notifications
Patient surveys
Government
Public health alerts
Public service updates
Government initiative announcements
Amplify Marketing Campaigns and Communications with Bulk SMS
Promotions
The value of digital coupon redemption will double by 2022 to $91 billion. Facilitate promotions and exclusive deals via SMS to maximize sales and marketing efforts. With scheduling and campaign staggering, your mass SMS promotions are delivered to your customers at the perfect time.
Loyalty programs
Leverage the personal nature of SMS by offering exclusive loyalty programs. Once customers have signed up, their details are added to a segmented contact group. They will then receive exclusive discounts, offers, and benefits. Use Merge Send to influence purchase decisions with tailored messages, including a customer's name or their local store.
Notifications
Did you know 70% of survey respondents feel that SMS is a good way for organisations to get their attention? SMS enables organisations to broadcast timely information to their valued contacts directly. Use bulk SMS to reliably notify contacts of essential updates such as changes in business hours, restock notifications, and emergency alerts.
Automated Company Updates
Bulk messaging capabilities are vital for updating customers and staff to ensure companies run smoothly. In fact, over 90% of people read SMS text messages within three minutes. This ensures updates to your customers are sent.
Using automated SMS messaging to streamline business communication processes is key for business success. With automated updates, businesses can convey critical information directly while optimizing resources.
Find the right SMS gateway for your business
SMSGlobal would love to help you serve your customers with SMS marketing and communications. Contact us to speak to our Customer Success Advisors today.