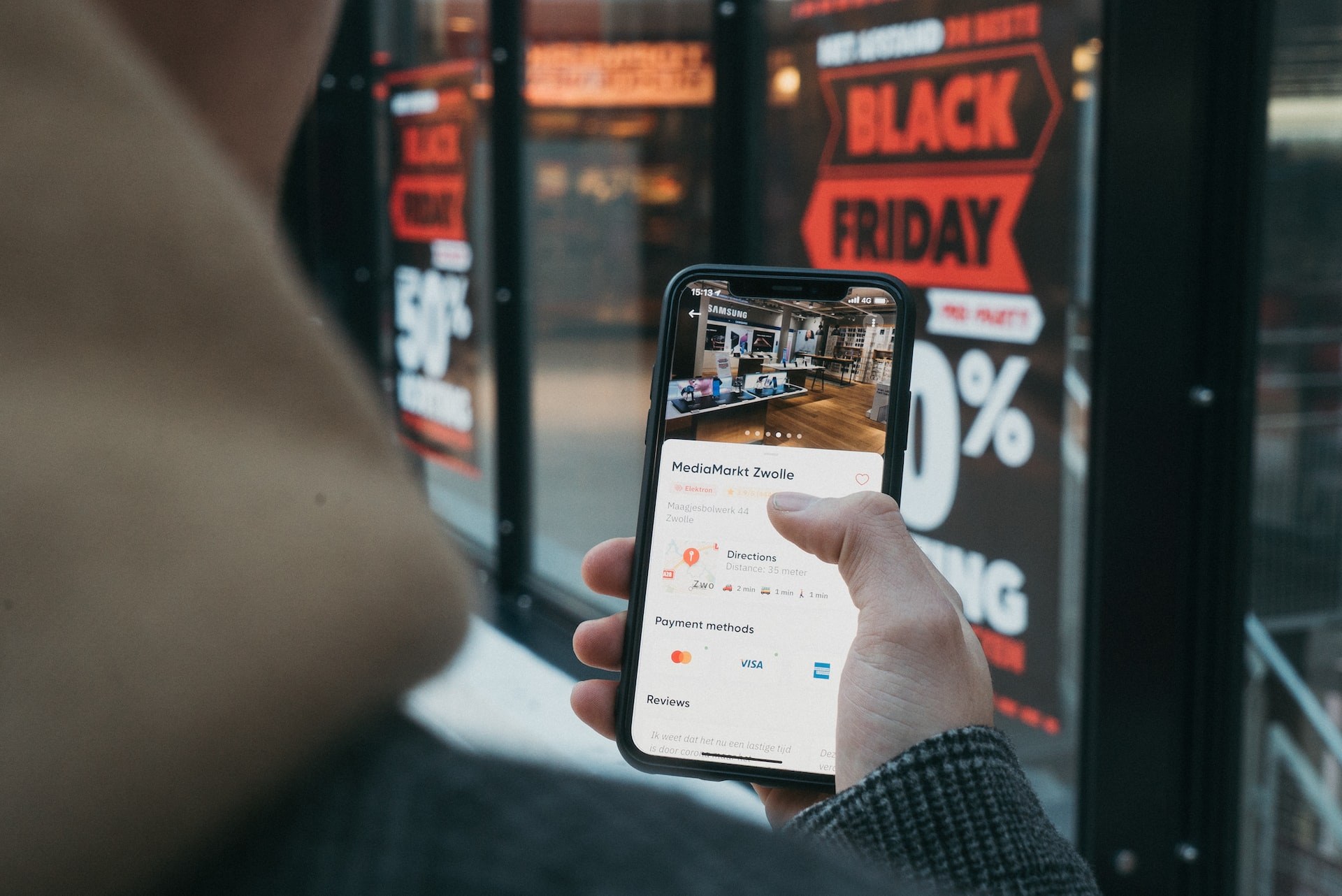 Boost sales and increase revenue this holiday period with SMS Marketing

The holiday shopping season is a vital period for retailers and businesses. In the US Cyber Monday and Black Friday represented the biggest and second biggest shopping days of the year in 2021.
And according to e-marketer, 2022 will be no different. In fact, sales on Cyber Monday are expected to rise 12.0% to $12.22 billion. Meanwhile, spending on Black Friday, is predicted to grow 9.8% to $9.91 billion.
Interestingly, but perhaps not surprisingly, Google reported that 96% of these sales were made using digital channels.
And according to Adobe, a staggering $88B (43%) of online sales for the 2021 holiday period, were made from smartphones.
Needless to say, mobile devices are playing an increasingly significant role in the customer journey. From product searches and comparisons, all the way through to final purchases, mobile allows consumers unprecedented 24hr access to their favourite brands.
With this in mind, the benefits of Short Message Service (SMS) Mobile Marketing this holiday period cannot be overstated.
SMS directly reaches consumers on a device that they prefer to shop with. Advice that the vast majority keep within arm's reach at all times and check on average once every 4 minutes!
How to maximise sales this Thanksgiving, Black Friday and Cyber Monday, with an SMS Gateway
There are a number of ways your business can boost sales with the help of an SMS services provider. Some of the most effective include:
Flash sales
With open rates of 97%, and 95% of text messages opened within the first three minutes of being received, SMS provides direct and almost immediate communication for businesses. This makes it an ideal channel for promoting 'flash sales'.
Product promotions
Thanksgiving, Black Friday and Cyber Monday are the busiest shopping days of the year. So what better time to send text message product promotions? This could include special discounts on products or services, or special offers such as 'buy 1 get 1 free'. To make your promotion stand out, consider using enriched media such as MMS.
Competitions
SMS competitions are a fantastic activity to keep your audience excited and engaged with your business. They are also a great way to grow your database in the lead up to the holiday period! Jump start your mobile marketing campaign by offering prizes, discounts and other incentives to subscribers who share competition details with friends.
Customer loyalty campaigns
Customer loyalty programs are one of the most effective ways to make your customers feel valued and keep them engaged. Given that acquiring a new customer is generally considered to be 5 times more expensive than retaining an existing one, SMS based loyalty programs should play an important role in any SMS marketing plan.
Best practices for SMS Marketing this Holiday Season
Before starting your SMS campaign, it's a good idea to brush up on some of the best practices for sending bulk SMS.
Collect consent
In most countries, it is a legal requirement to obtain consent before sending SMS marketing messages. Before conducting your SMS marketing campaign, ensure your list of subscribers have consented to receiving mass text messages from your business. Additionally, you are legally required to provide recipients with the option to opt-out from receiving future messages if they choose.
Identify your business
When sending bulk text messages it's important to clearly identify your business as the sender. One of the best and easiest ways to do this is using a sender ID.
Sender ID is the name or number that appears on the SMS. It can be either alphanumeric or numeric and enables customers to immediately identify your brand. If you're not using Sender ID, be sure to identify your business at the start of the text message.
Timing is critical
As with many things in life, timing is an important consideration when it comes to sending bulk text messages. While there is no single ideal time to send a campaign, there are some important considerations to take into account. Most importantly, be respectful of your recipients time and avoid sending SMS very early in the morning or late at night.
While midday is universally the most popular time to send an SMS campaign, the timing of your send out will depend on your audience and your product/offer. Given that midday is a popular time for sending texts, you might find it beneficial to send your SMS earlier and at an odd time, for example at 11:17am.
Segment your lists
Segmentation enables you to send more targeted text messages to your audience. By sending messages that are more relevant to your recipients you are likely to achieve much greater cut-through with your SMS campaigns. Segmenting lists also prevents you from sending irrelevant offers to recipients, which will reduce your number of opt-outs.
Customise your message
Several recent studies have shown that customers prefer their personalised communications. In fact, according to research from Smarter HQ, 72% of customers will only engage with messages that are personalised. Another study by Epsilon, revealed that 80% of customers are more likely to make a purchase from a brand that offers a customised experience. Needless to say, it pays to personalise your SMS messages. This can be done quickly and easily using SMSGlobal's merge-send function. For more information and instructions on how to do a merge-send click here.
Find the right SMS gateway for Thanksgiving, Black Friday & Cyber Monday
For more tips and advice on sending and receiving SMS this holiday period, feel free to reach out to our friendly Customer Success team who are available 24 hours a day to help with any questions you may have.