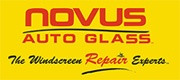 Novus integrates SMS

Pioneering the way in automotive glass replacement, Novus Auto Glass specialises in windscreen repairs and replacement to the retail, insurance and fleet industries.

Novus have embraced the use of SMS through the SMSGlobal platform and started using SMS as a part of the franchisee 'notification of enquiry' process in July this year. They haven't looked back. "Using mobile messaging in the form of notifications to franchisees, an email is also generated in confirmation of the SMS sent and a reconciliation process is in place to ensure that all enquiries are accounted for", says Michael Cooper, Franchise Operations Manager. "Customers are sometimes surprised at how quick we are to get back to them and the immediacy of SMS means we can keep our customers happy with fast response times".
In theme with customer centric services, Novus Auto Glass also have a dedicated number which acts as a franchise locator. "Our operations are mobile, so keeping our services mobile makes sense to us" added Michael.