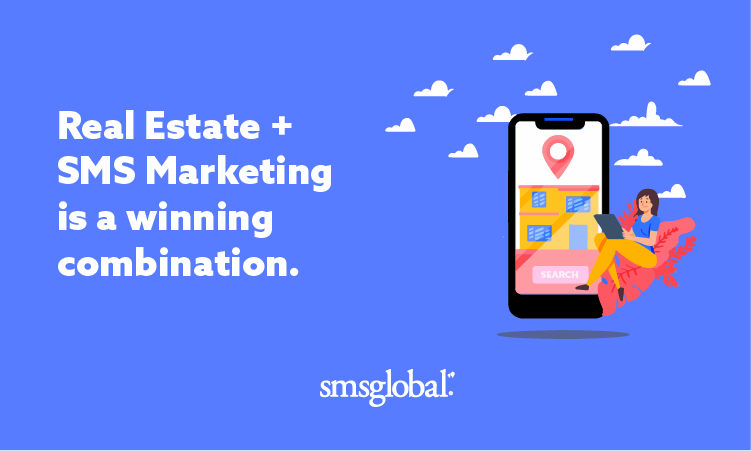 In this new article well discuss what is SMS Marketing and how you can best implement it with in your Real Estate agency.
At the heart of modern real estate sales and marketing, there have never been more ways to reach people, yet people have never been harder to reach!
With 98% open rates and 90% of messages opened within minutes of receipt, your important marketing and communications messages are being received and read. There are so many ways you can use SMS to elevate your business.
● Send SMS with attachments, or MMS images of the property, and automate replies to help clients decide faster.
● Don't wait for people to see new listings online or to read an email, send by SMS and they'll get read within minutes.
● Display a short code on your For Sale/For Lease signs that people can easily text to and automatically receive information using SMS autoresponders.
Cash Flow
With SMS text messaging, you can easily keep your vendors, buyers and landlords informed, and manage tenants.
● Rent reminders with URL shortener to your payment platform for instant access
● Inform tenants of inspection dates.
● Arrange repairs and engage tradespeople to service rental properties.
● Two-way SMS displays texts as chats, which makes it easy to continue conversations and provide real support to your customers.
Let's take a look at exactly what SMS Marketing is and how it can take your Real Estate Business ( Century 21) to the next level in customer engagement.
Email or SMS
As a real estate agent in a highly competitive environment, you want to be conquering your goals and build meaningful contacts and relationships, but that involves great communication!
Calling and emailing your prospective and existing clients is a great initiative and is still highly effective, but it's not the only method and some statistics show that it isn't necessarily the most effective method either. If you're not engaging with clients or potential clients through SMS marketing, then you could be losing out on a higher level of ROI.
When someone receives an email, they may open it and then come back to it later to take action or respond or it may end up in their junk. But an SMS text message has a higher level of engagement and has an open rate of about 98%. This is far higher than most email open rates.
SMS Messaging and Leads
Buyers & Renters
Once a potential client has texted your property-specific keyword ( property Address), It's best practice to ask for the contact's first and last name so that you can personalize your messages later on in your buyer's journey.
Personal Level
It goes without saying, however, that purchasing a home is an extremely personal decision. That's why it's a good idea to combine texts with phone calls. If you've enabled our dedicated virtual number, you can place a call from the same number you use with your account.
Open Houses
Nothing can ever replace face-to-face. An open house is a lot of work and texting can help you get the most value out of your time. Use SMS messaging to simplify the sign-in process and collect more info from guests.
There are a few reasons this sign-in method is so effective—the main one being that it only takes people a few seconds to send a text. Plus, agents don't have to decipher illegible handwriting or deal with manually entering information into their CRM.
At an open house, you should collect names and emails at a minimum. Use our Hubspot or Zapier integration to pass the collected emails to whatever email marketing platform you use.
SMS Messaging and Communication
We can't overstate the importance of generating strong leads. But the next step is equally as essential: sending the right messages. These are a few of the ways our real estate partners have seen success with text messaging.
Alert Buyers
One of the key benefits of bulk SMS technology is that it's super fast. You can send a message immediately. Plus, if your contacts are like most clients, they'll read the message right away (and respond immediately if they're interested).
Photos of the Properties
Our MXT Platform doesn't limit you to words alone. A beautiful photo of a property can play a significant role in driving the decision to schedule a showing. Send a video walkthroughs and photos using our multimedia messaging service (MMS).
Schedule Showings
Successful marketing is about providing value, and getting consumers to take action. Every text message you send should both provide information to your lead, and have a call to action.
Plus, if you've ever tried to schedule a meeting by email you know how frustrating delays in responses can be. Because texting allows for quick back-and-forth conversation, it's the ideal medium for scheduling showings.
Schedule Reminders
Make sure the potential buyer is on time and in the right spot. Use our scheduled text feature to send a text a few hours before the showing with the time, address and any other details your lead may need to know.
Simplify the Process
If all goes to plan, then your client loved the home and they're ready to move forward. Now begins the tedious paperwork process. You can use autoresponders to take care of some of this busywork. Send texts to remind clients when they need to supply information, sign a form, or provide other feedback.
Maintenance and Repairs
Organize trade services and schedule maintenance of rental properties with SMS reminders and confirmations. This allows for clear and reactive communication between renters and landlords.
Payments
Setup overdue rental payment reminders to ensure you are covering all communication mediums. Automate this process and add a URL shortener to link to a secure payment gateway. Add a confirmation alert to the landlord, advising them their money has been transferred into their bank account.