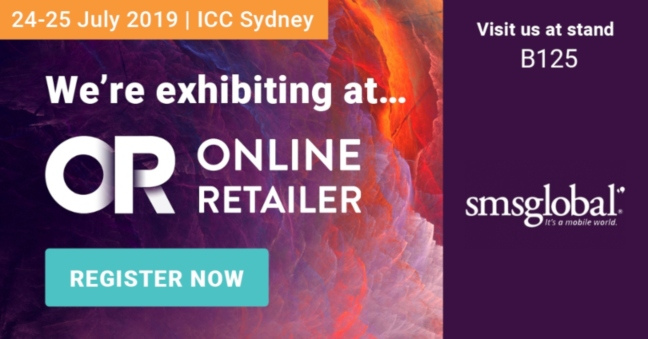 Online Retailer 2019
We're on our way! Our SMSGlobal team is flying into Sydney to participate in this year's Online Retailer Conference and Expo (OR).
OR is the perfect place to learn more about current business trends, network with top-tier retailers and gain brand awareness. SMSGlobal will be exhibiting the best communication solutions for retailers across the board. With a direct connection to consumers, SMS is essential to growing business relationships and developing trust with customers. Through mobile messaging, recipients can easily access relevant information, including order status updates, payment confirmations, promotional deals, SMS marketing and security protocols like 2FA (Two-Factor Authentication).
This week, we aim to expand our horizons in the retail and eCommerce industries at one of Australia's most prominent online retail events. We'll get to mingle with industry heavyweights and witness this year's high calibre selection of Online Retail Industry Awards (ORIAS) winners firsthand.
We're going to be heading in early to set up our stand in the exhibition hall and arrange an exclusive exhibitors event to welcome vendors. And we're calling the event VIP: Vendor Influencer Party! Easing exhibitors into the conference is our main aim with this event, presenting a unique networking opportunity to create relationships and collaborate with other industry leaders.
Once the conference is underway, you'll be able to find us at stand B125 in the International Convention Centre Sydney exhibition hall. Our team is friendly, knowledgeable and ready to answer all questions—we're sure there are many.
And if we're not at the SMSGlobal stand, we'll be soaking up all the information we can from the incredible range of speakers through the event. The lineup includes the elusive Oobah Butler of VICE (World's #1 Fake Restauranteur), Fareena Contractor of Walmart, Ian Dewar of The North Face, Bunny Yan of Left Side of Fashion and many, many more international and Australian big-name retailers.
The highly anticipated annual ORIAS will see our team dressed to the nines! Starting at 6:30 pm on Thursday, July 25 in the Grand Ballroom of ICC Sydney every year, a panel of judges choose the winners from a selection of outstanding industry-wide retailers throughout 14 categories. It's an excellent opportunity to see how industry leaders operate and reward their incredible efforts.
So, if you're around, come past our stand and say hello!
To find out more about OR2019 head to their website.