Get Greener: A NAWMA & SMSGlobal Case Study
Overview
NAWMA, the Northern Adelaide Waste Management Authority, provides South Australia's best-practice waste management and resource recovery services.
Well-known for its excellence in environmental leadership, NAWMA aims to deliver world-class recycling and waste management services to Constituent Councils, and Client Councils in South Australia.
NAWMA chose SMSGlobal as their preferred bulk SMS provider to send SMS communications such as service reminders. Since sending SMS with SMSGlobal, NAWMA has saved time, enabling staff to work on other priority projects.
Approach
Replacing old SMS platforms
Before engaging with SMSGlobal, NAWMA was using another bulk SMS provider.
This platform was onerous to use and was not user-friendly. This made NAWMA's tasks take so much longer and also caused more stress and unnecessary pressure for staff. This platform was USA-based and lacked local support.
Also, the cost of SMS messages was also extremely high and did not suit NAWMA's growing business.
Bulk SMS texts to remind residents of hard waste collection
NAWMA's Customer Experience team was responsible for servicing the community and was using SMS to communicate with them. The team searched for a bulk SMS platform that was easy to use, affordable and had local support. The ability to integrate with other platforms was also a major factor.
Discovering SMSGlobal SMS/MMS platform
NAMWA was frustrated yet hopeful for a new SMS marketing platform provider.
Team Leader Charmaine Wing and the team at NAWMA started conducting small trials with other platforms.
Upon conducting their research, Wing discovered SMSGlobal SMS messages app (MXT) online, and NAWMA has now integrated SMSGlobal within the organisation.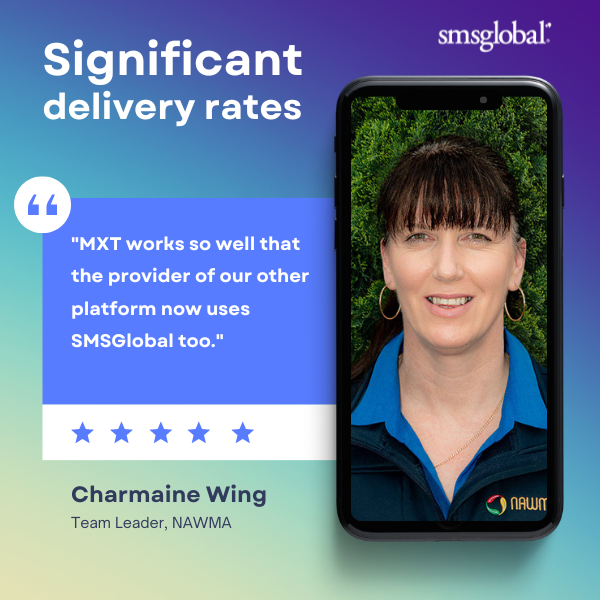 Benefits & Results
Significant delivery rates
Since engaging with SMSGlobal's messaging services, NAWMA's delivery rate has improved significantly. This efficiency has saved the organisation considerable time, enabling the team to organise and work on other priorities.
Effective waste collection reminders
NAWMA also required SMSGlobal to send SMS reminders for hard waste collection services to remind residents of their impending collection. This has significantly reduced the number of times residents fail to present their items for collection.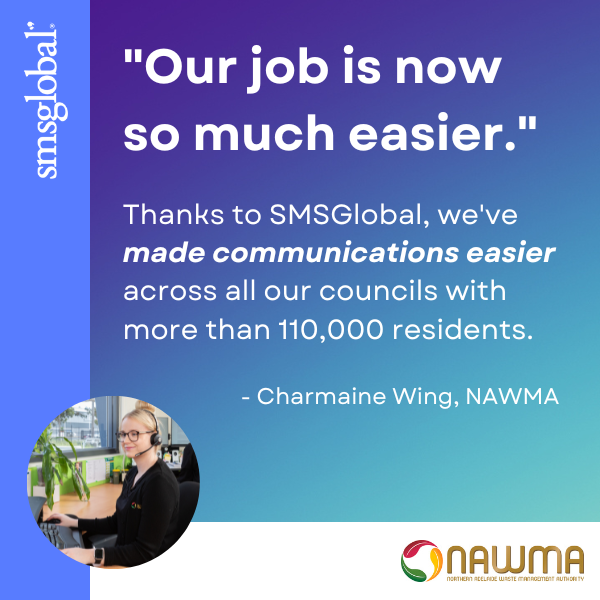 Making NAWMA's job so much easier
Wing highly recommends SMSGlobal due to having the "most friendly and efficient consultants and amazing service". NAWMA has engaged with Sam Moylan, SMSGlobal's Customer Success Team Leader. Charmaine says Sam is "so efficient, knowledgeable and makes our job so much easier."
"SMSGlobal makes our day-to-day tasks super easy. SMSGlobal has made NAWMA consider what other departments could use the MXT platform too", confirms Wing.
Multiple options, multiple platforms
Wing also states some of the benefits of using SMSGlobal's SMS marketing services. The "pricing is very reasonable". The SMSGlobal platform offers "many options" to send short messages to send mass text messages to custom contact lists.
As a result, NAWMA has now integrated SMSGlobal with another work platform. Since using this SMS API, "it works so well that the provider of our other platform now uses SMSGlobal too", states Wing.
Conclusion
SMSGlobal has been an ideal solution to send SMS texts to help the South Australian community. We have helped improve recycling, waste reduction, and waste management services.
SMSGlobal continues to support NAWMA with SMS text messaging solutions that have improved customer delivery rates significantly. SMSGlobal has helped NAWMA save time, and has been cost effective across the organisation and its community.

NAWMA's Wing recommends businesses to "get started right away" and send SMS campaigns with SMSGlobal.