Cool gadgets at the MWC

My Final Day at the Mobile World Congress didn't disappoint. What an incredible display of technology. Since my first day in Barcelona, I have been blown away by the amazing gadgets on display. Virtual reality around every corner, Internet networks that talk to each other, AI Robots... the future for mobile and technology is headed in a very exciting direction.
So on my last day in Barcelona, and at the Mobile World Congress, I thought I'd highlight a few of my favourite gadgets.
LG G5

Although it may look like a standard LG phone, the G5 is actually pretty incredible. The best feature about it is the cool slot at the base of the device. I know what you're thinking 'ok, you can remove the battery, so what', but it's a lot more than that. The G5's expansion slot supports a handful of accessories as well as an alternating and improved battery pack. The phone felt more like a toy than a smartphone. What can you connect? Stuff like camera module, rolling bots, VR headset and 360-degree cameras.
LG Rolling Bot

Like I was saying above, the LG G5 can connect to some pretty cool stuff, and this crazy little Star Wars like ball is one of them. The LG Rolling Bot is a rolling robot that you can use as a camera, taking photos and recording footage, a speaker so you can speak to others or play music through, an IR blaster so you can turn on your TV. It even has a laser pointer... why?
Using the G5 device manager, you can control the ball from anywhere around the world, as long you're connected to the Internet. You can use it for meetings, with friends, even annoy your cat... awesome!
Sigfox

Think about this. A low-priced, battery-preserving network that enables you to connect stuff like… automated trash cans. These devices will be able to tell you when they're full, remind you to empty them and best of all, communicated with each other.
The concept is part of a network that would link a range of items like thermometers, power monitors, parking meters, vending machines, smoke detectors, location sensors and a variety of other devices, capable of being part of one network, powered by the Internet of things. The great thing behind Sigfox's network technology is that it's inexpensive, consumes little power and works over long distances. Might need to look into it for the office.
Sony Projector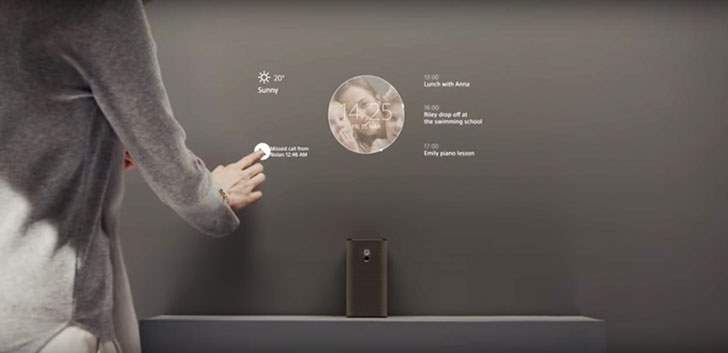 This is probably the coolest of all the Sony accessory items. The Sony Xperia Projector lets you project images and information onto any surface. Once projected you can then interact with the projection, using it as a UI control.
Goodbye From The Mobile World Congress
Well, another exciting event comes to an end. Looking forwards to getting back home and using some of the inspiration I've unearthed here at the Mobile World Congress to help advance our platform and network. Can't wait to see what next year's event holds!