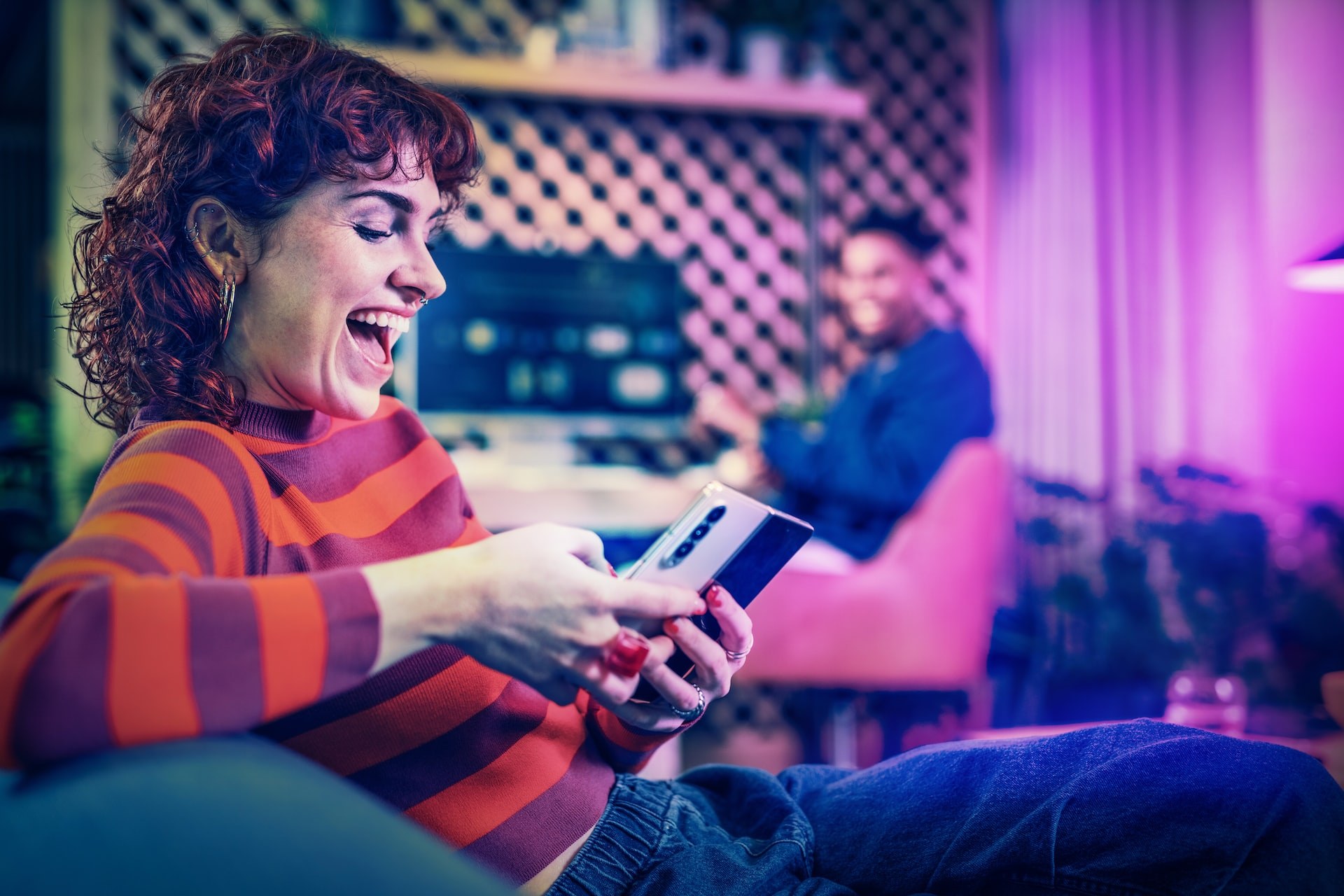 Future of SMS: 15 Bulk SMS Marketing Trends to Watch In 2023
Consumer behaviour is rapidly evolving, driven by the demand for instant gratification.
2023 will bring many opportunities to capitalise on this trend through SMS marketing - a powerful tool that allows brands to build meaningful connections with their customers in real time. Here are some key SMS trends businesses must consider when incorporating SMS into their digital strategies this year and beyond.

Here are our trends for the future of SMS marketing

1. SMS as an Instant Gratification Tool
Instant gratification is the new norm, and SMS texting has quickly become a powerful tool to satisfy this craving.
By 2025, nearly 6 billion people will send or receive text messages regularly - making it one of the most popular forms of communication worldwide. This isn't surprising since our brains release dopamine when we get an SMS notification or reply; after all, who can resist curiosity? Dopamine plays an essential role in reward-seeking behaviour, which fuels why so many find themselves drawn towards instant messaging for their daily interactions.
2. SMS is the Top-Performing Marketing Channel
SMS is the top channel for delivering engaging content to customers. As people check their SMS messages almost instantaneously, marketers can generate curiosity with emotional messaging and get an extraordinarily high open rate of 98%.
Furthermore, due to dopamine release associated with receiving a message in this way, satisfaction levels can be higher than any other marketing platform or channel.
3. SMS as a Customer Service Channel
Customers can text customer support reps over phone calls because of the convenience and flexibility texting offers.
As a customer service channel, SMS can facilitate many customer service functions, such as:
Sending SMS with customer support allows anyone with a mobile device to resolve issues quickly — without enduring long hold times and transfers. Shorter resolution times with SMS can also boost brand trust and help drive you more revenue.
4. SMS Authentication as Cyber Security Protection
To protect sensitive consumer data, two-factor authentication (2FA) is a mandatory requirement in today's digital world. The easiest and most convenient way to do 2FA is via SMS. SMS texts holds a One-Time Password (OTP), used to validate the customer login. SMS authentication provides an extra layer of protection that too without any complexity.
5. SMS Text as a Multi-Generational Social Tool
As SMS is a one-to-one communication tool, your messages can be more personalised and private direct to generations.
Although adults in the 45-64 age bracket are the fast-growing demographic for SMS usage, SMS text messaging is also priceless when it comes to helping younger generation, who also spend huge amounts of time texting on their phones. This is because SMS messages are an ideal way to engage with them privately.
Many organisations are now even working with parents of disadvantaged children, sending useful hints and tips to support early development and communication. For example, UK's Tips By Text project, sends SMS texts three times a week to parents, designed to help improve their children's literacy, numeracy and language skills.
6. Customers Still Like You Texting Them Offers
What's easier than communicating via SMS? SMS texting will continue to be effective in 2023, but studies also show that over 75% of customers still want to receive marketing offers via SMS.
Receiving two-way communications and offers from businesses via text is fast and easy, paving the way for enhanced business-customer relationships and transactions.
7. SMS as Brand Protection from Scammers
Brands need to protect themselves from SMS scammers. As the world becomes more reliant on mobile technology, the need for customer and brand protection becomes significantly important. Protecting personal and sensitive information is vital for companies and their brand reputations.
As scam SMS messages are on the rise, it is crucial for your business to be prepared.
Read more on how you, your company, and your customers can prevent being scammed.

8. SMS Texts Drive Website Traffic
Strong, clear and concise SMS with clear call-to-actions (CTAs) will help drive more traffic to your website. In fact, around 30% or recipients react to strong CTAs in SMS messages, with over 45% end up purchasing.
As SMS texts have limited character limits of 160 characters, sending SMS creates urgency as well as clear ways to take action.
9. Cross-Sell With SMS Marketing
To cross-sell your products and services with SMS, you must first understand your customers' interests in buying. SMS will play a great factor in cross-selling. Below are some steps on how to step up your cross-selling game:
Make your offers personal
Segment your customers based on shopping behaviors and their customer journey
Have an irresistible offer
Make it easy for customers to take action e.g. make a purchase
Cross-sell with related products and services, related items, and bundles. By sending out simple SMS to allow customers to add items, modify an order, or purchase more, you are increasing your customer lifetime value (LTV) by as much as 30%.
10. SMS as AI Conversational Marketing
There's one-way or two-way SMS. But SMS is getting smarter. With more flexible automated responses to keywords, and AI powered chatbots, SMS can be conversational. Conversational SMS involves real-time conversations with your customers to engage them with human-powered shopping and support experience via SMS. Conversational marketing helps with brand awareness, engagement, conversion and retention.
Examples of conversational marketing include:
Custom offers
Reminders
Customer support
Engagement-led drip campaigns
Conversational SMS helps build human-to-human relationships, helps you cut through the clutter, and helps you sell and serve more, faster.
11. SMS Copywriting Marketing Specialists On The Rise
The future of marketing involves marketers attracting the right customers at the time with the best message, with limited space.
As a result, there will be a rise in SMS Marketing Specialists around the world to help businesses with SMS messaging campaigns. SMS Marketing Specialists must know how to craft perfect SMS messages, within country and company guidelines and are on-brand, making messages powerful, actionable, and engaging.
Read more for SMS copyrighting best practices.
12. SMS Marketing as An Influencer Marketing Strategy
Online social media and marketing influencers - especially those with Gen Z and Millennial audiences -can use SMS marketing to boost brand awareness and engagement.
In fact, 75% of Gen Z and Milleninials use their smartphones to shop online.
The micro-influencer movement has brands looking to their own customers as potential influencers. As customers are becoming more like micro-influencers, SMS is now perfectly positioned to help scale your influencer marketing strategy.
13. SMS Automation for Customer Feedback
Using SMS automation to send surveys straight to your customers' mobile devices to collect feedback will be a key driver and strength in your marketing strategy.
Because SMS receives the highest open and response rates, using SMS to send surveys such as Net Promoter Score surveys and Customer Satisfaction surveys can boost your customer engagement and overall business efficiency and success.
14. SMS Is A Reliable And Native App
SMS is built into all mobile phones. This means there is no requirement for the recipient to download an app, making it faster and more convenient. As a native built-in service, that not only offers virtual instant communication, it is more reliable as it only requires a cellular connection, unlike email, WhatsApp, or push notifications which rely on the internet for transmission.
15. SMS is a Must-Have In Your Marketing Mix in 2023
This year, it's time to include SMS into your marketing mix. By creating your own original personalised SMS marketing campaign to align with other marketing channels such as email marketing or website landing pages, you can ensure your audiences become your next customers.
Summary
As more companies understand the great importance of connecting with customers, clients, and their staff, company directors and managers know they must use bulk SMS marketing in their financial marketing and/or IT budgets.
And in 2023, SMS marketing campaigns will continue to grow exponentially.
Take advantage of the effectiveness of SMS in your digital marketing strategy and consider these top marketing trends. Contact our Customer Success team for information and receive a free bulk SMS trial today.