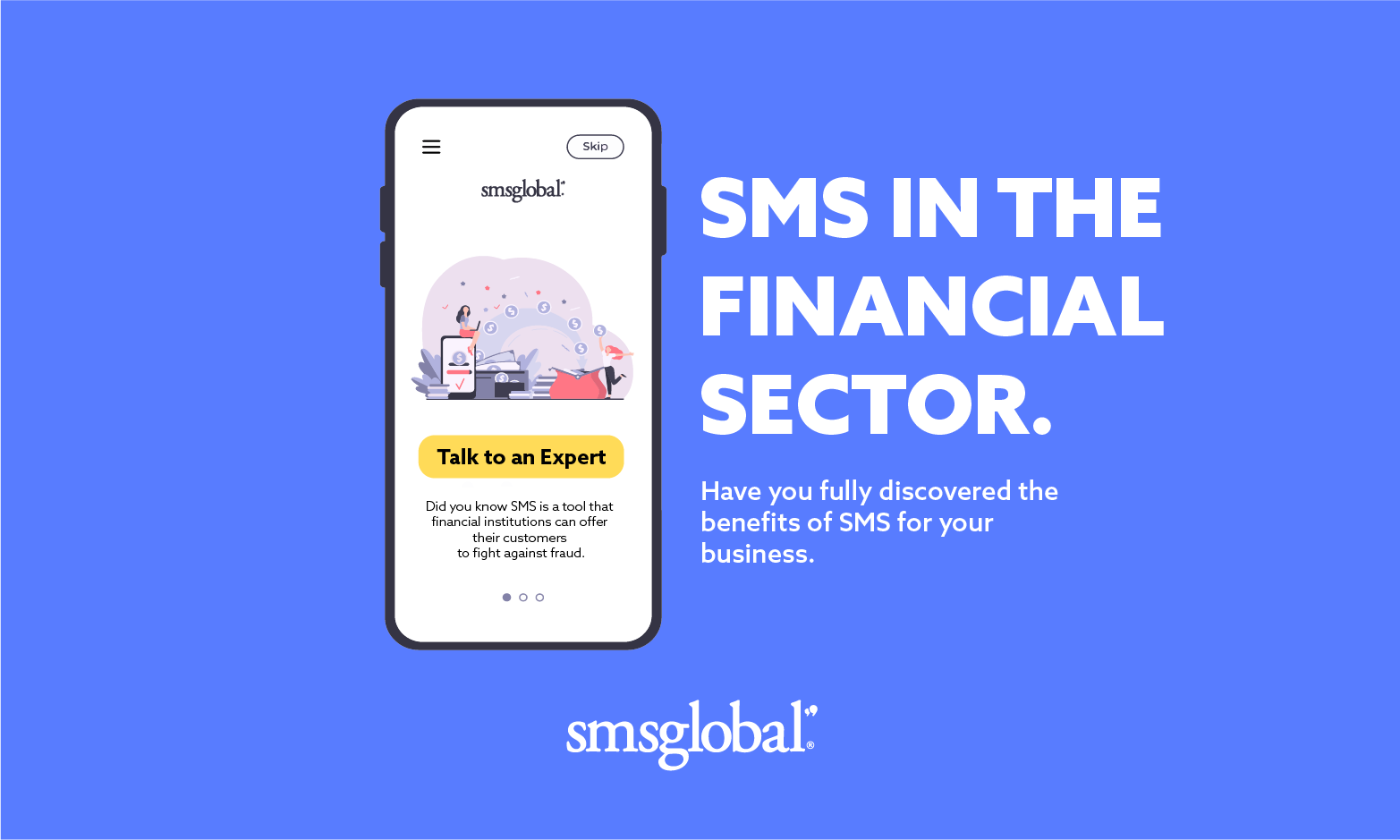 SMS in the financial sector
Let's face it, SMS as a communication tool has been around for quite some time… It's practically as old as the mobile phone. It has been tried and tested, poked and prodded, and is now at a point in which people are truly comfortable with it.
What many overlook though is the true value of SMS.
While it may be easy to write off SMS as an outdated piece of technology, the simple fact is that SMS has never played a more vital part in people's – and more to the point, your customers' lives than ever before.
Since its initial introduction to the market, SMS has dazzled us with impressive user statistics (which we'll touch on below), open rates and engagement levels which significant trump other communication mediums.
It all starts with
Let's take the impact of SMS on the finance industry for example. When you break it down the finance industry is built around many elements, one of the most critical ones being trust.
Trust plays a vital role in a potential client's decision-making process when choosing a financial institution for the first time.
Studies have demonstrated that people aged under 25, who have experienced a positive exchange with a bank, are inclined to use those same banks later on in life when they're ready to apply for a mortgage or some other more substantial loan – which really should come as no surprise. It's this foundation of trust and loyalty which encourages them to continue their partnership with the bank, a critical component for any business.
So what's the most effective way to build trust for a business in the financial industry?
Gaining people's trust and loyalty is done by providing them with a good product and even better sms service. People will remember the positive dealing with the bank.
The way it provided benefit and ultimately made them feel. When we're talking specifically about the finance industry—which is a facet of life many people would rather avoid altogether—developing this mutual connection should be prioritised highly. After all, it is the foundation from which long-term relationships are defined.
And how do you do this?
Well, one of the simplest, easiest and most reliable ways to do this is with SMS.
Businesses will commonly use SMS or text messages to build bridges that allow customers a smooth, direct access point to their business, communicating vital information relating to customers' accounts, updating customers with their loan or credit applications or simple reminders about outstanding payments. All of this plays a huge part in building that rapport necessary for healthy long-term relationships.
But what other benefits could SMS provide for an organisation within the finance industry?

Preventing Fraudulent Activities
Customers dealing with financial institutions of whatever sort won't need to be assured that their information is safe, secure, and private.
SMS is a tool that financial institutions can offer their customers to fight against fraud. Putting in place a two-factor verification mechanism that sends one-off passwords (OTPs) to customers' mobiles is one way to do this.
Another is to notify customers when any irregular activity seems to be taking place in their accounts.
All of these small efforts amount to a certain peace of mind that help financial businesses not just acquire, but keep, their customers.

Monitor Your Servers with SMS
Alerting customers of irregular or suspicious activity isn't the only use that SMS offers to keep those nerves smooth. Similarly, from an internal end, you can integrate SMS into your business to monitor your systems, and warn technicians if something seems not quite right in your digital infrastructure.
This will allow you to instantly be notified of server issues and alter those required to the issue at hand.
An underused service of SMS, server monitor can actually be very beneficial for organisations who can't afford platform downtime.

Keeping Customers in the Loop
The EOFY can be a very stressful time for many.
Having to fill out applications that deal with large sums of money can put even the calmest of individuals into a panicked sweat. Not to worry. You can simply use SMS to keep your customers informed.
By keeping customers in the loop on how their application is developing, or notifying them of when the application may be due, you take the sting out of what can often be a horrible process.
It's little things like this that make a huge difference in people's lives, saving them valuable time, money and a bunch of headaches.

Overdue
I touched on this above, but it's worth fleshing out a little bit further because a bad credit rating can render a person's financial future bleak.
By using SMS as a payment reminder, not only can you reduce collection costs to do with chasing up late-paying customers who might be going through a difficult time, but you can also potentially save a person from the nightmare that comes with a black stroke against her credit rating.
With an open rate of 97% and engagement levels into the 30's, SMS is the most effective way to reach your customers, trumping email, direct mail and phone calls.
I mean think of how many SMS messages you will read, compared to emails or phone calls? This is why SMS is the perfect option to deliver time-critical reminders.

Easy CRM Integration
The good news is that getting an SMS integration that works for you and your customers is easy. SMSGlobal's gateway for example links straight to any internal applications that your staff use, giving them the ability to SMS critical account info directly to customers, on mass if required… all customised using keywords and triggers.
Typically if it can send an email from, it can send as SMS… it's that easy.
If you're interested in finding out more about how SMS can benefit your business, click on the link below to speak to one of our friendly Customer Care representatives how would be happy to further inform you on how you can improve your business with SMS.