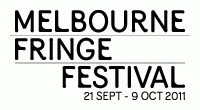 Event management made easy with SMS

One of the largest multi arts festivals in Australia, the 2011 Melbourne Fringe Festival featured over 320 events, incorporating circus, cabaret, theatre, live art, visual art, comedy and dance.
"With a high dependency on our volunteers, SMS helps facilitate running the Festival" stated Kylie Maslen, Volunteers Coordinator of Melbourne Fringe. "We recruited 150 volunteers this year and keeping everyone organised is very important to the way we run the Festival. We relied on SMS to communicate shift reminders, circulating information and last minute requirements", said Kylie.
"One of the Festival's creative programs this year, Crowd Play, a flash mob-style event, had a particular dependency on mobile messaging as the performance location wasn't revealed until the last minute - so the best way to organise volunteers was via their mobiles". For more information on Crowd Play and Melbourne Fringe, visit the website.