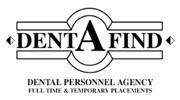 SMS communication helps Dent A Find

Dent A Find, a division of People Match Group, specialise in the recruitment of temporary and permanent staff to the dental industry and commenced operations in 1986.
The type of placements they make include dental nurses and hygienists, receptionists and practice managers.
When asked about the type of mobile messaging Dent A Find conducts, Matt Calvitto, Dent A Find's HR Recruitment Officer, explained that "because of the nature of our business, we have a high dependency on mobile communication."
Dent A Find have been using mobile communication methods since 2007. "Our use of mobile technology ranges from notification of changes in job details, location, vacancy details and job overviews." Knowledgeable on the subject of CRM, Matt also informed us that Dent A Find uses the SMSGlobal platform to store candidate's mobile numbers.
"With mobile messaging as our key method of contact, our candidates are sent job details via SMS and candidates respond to assignments with a 'Yes' or 'No'" stated Matt.
Dent A Find's mission is to 'partner with their customers so to best understand their environment, culture, market dynamics, technology, processes and unique needs'. At SMSGlobal, we agree with this ethos and take pleasure in providing a platform that assists Dent A Find grow and prosper.