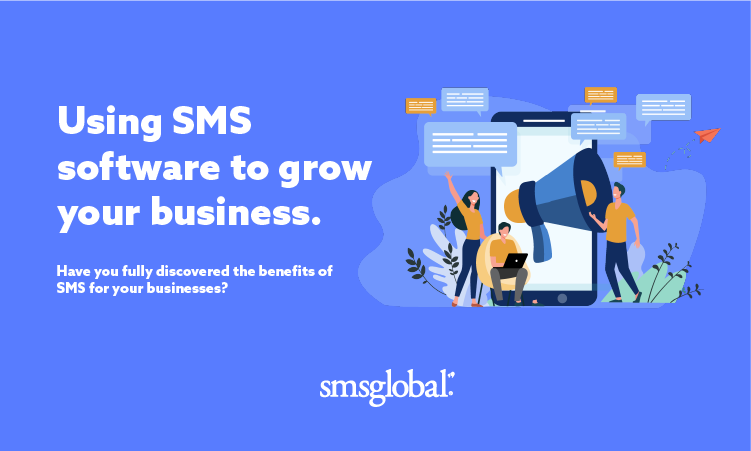 Send SMS To Grow Your Business.

Discover The Benefits Of SMS For Your Business?
Creating effective client engagement can send even the calmest, most collected individual into a sweating frenzy. Effective client engagement can be a solid leap forward in growing your business, and here we look at how a simple text message can be a game-changer.

Finding the most effective client communication doesn't need to be daunting.
When you boil it down to its core, client engagement is about relevant communication at the right time. It's about building relationships and making your client feel that you are thinking of them and that their business is essential to your business. Creating long-lasting, fruitful relationships with your customers is paramount to achieving ultimate success.
A business that communicates effectively with its customers, ensuring they are engaged and valued with relevant content, will create a solid long-term relationship where everybody comes out a winner. Let's take a moment to explore the world of business SMS and MMS...
Customers Prefer A Text

Recent surveys show that over 75% of people prefer businesses to communicate with them via SMS.
Consumers indicate they prefer to receive appointment reminders, billing reminders, SMS passwords, changes to events, the latest and greatest deals and offers, coupons, or any notification from their favourite business via Text messaging.
Businesses who use SMS campaigns to communicate with customers the right way can make their customers' lives easier and more organised with the simple click of a button.
SMS has become a significant player in reducing no shows through SMS appointments, text reminders, delivery updates, sales offers and discount coupons.
Communication is a two-way street where both parties can benefit if done effectively. It improves your customer service and client satisfaction.
Become more productive by reducing phone calls to remind them about their appointments or follow up on unpaid invoices. Send reminders by typing, then click send to reach your clients instantly.
Sending a Text Works...
The latest statistic with Business Text messages boasts incredible open rates of 97% (90% of which are read within three minutes of receiving) and engagement levels up around the 40% mark.
It's easy to see that SMS and MMS are growing fast and becoming an essential communication tools for any business type. SMS has been so effective it makes other competing mediums like social media, phone calls, and emails look slow, sluggish and ineffective.
SMS is a trusted and intimate service that is, if used correctly, almost guaranteed to reach its target.
SMS Is Simple & Easy to Use
SMSGlobal's SMS service Platform & APIs are simple and incredibly easy to use and integrate. Our SMS gateway does all the work, and if you're not tech-savvy, that's OK; we have friendly staff who can complete an instant demo and help you set up your account within seconds!
SMSGlobals's SMS messaging platform makes it simple and easy to send reoccurring messages, create templates, send bulk SMS, a single SMS, get real-time reporting, and much more.
Our SMS text messaging platform allows you to choose and create your SMS API Keys for fast and straightforward SMS Integrations.
SMSGlobal also has many plugins and integrations with CRMs, and if we don't, we will build it for you.
Text messaging communication allows businesses to tailor short, sharp and last-minute messages with relevant content to hundreds or even thousands of customers, all sent from the same platform and at the same time. SMS is not an outdated technology; it's the most efficient and effective way to reach your customers.
SMS Communication is Affordable
SMSGlobals' short messaging services and comprehensive SMS marketing tools are affordable and easy to use. We also offer an Email to SMS function that transforms an email from your computer into a text message.
It doesn't require a team of creative geniuses to send texts. All you need to do is type and click send; You won't need an entire group of staff members to plan and execute a simple campaign. Depending on your budget and message requirements, you can control how much you want to spend.
From a business's perspective, SMS is an excellent vehicle for communication that will always be there, delivering your message to the right people when you need it and appreciate it. It will be reliable, effective, and ultimately help reach your customers when you need to.
Reach Your Customers 24/7
We all have our mobile devices 24/7; they're attached to our hips, making them easy to contact. As a result, it's the perfect way to get mission-critical information to the palm of your customer's hand.
Contacting a customer directly on their mobile phone with information about a flight change or cancellation can be time-consuming. Emails can be lost, and phone calls to update time-sensitive information can be unpractical to many customers.
The benefits of text messaging for your businesses indeed are extensive. As a communication tool, SMS has the power to change the way your business engages with its customers, automating and improving several manual processes that consume time and resources.
If you'd like to learn more about the power of SMS for your business, speak to one of our friendly SMS Communication Advisors on 1300 883 400.