URL Shortener
New
The URL shortener enables you to have long URLs automatically shortened by SMSGlobal.
Additionally, using SMSGlobal's URL shortener service allows for additional analytics and control over your SMS campaigns, such as the number of URL link clicks and URL expiry times.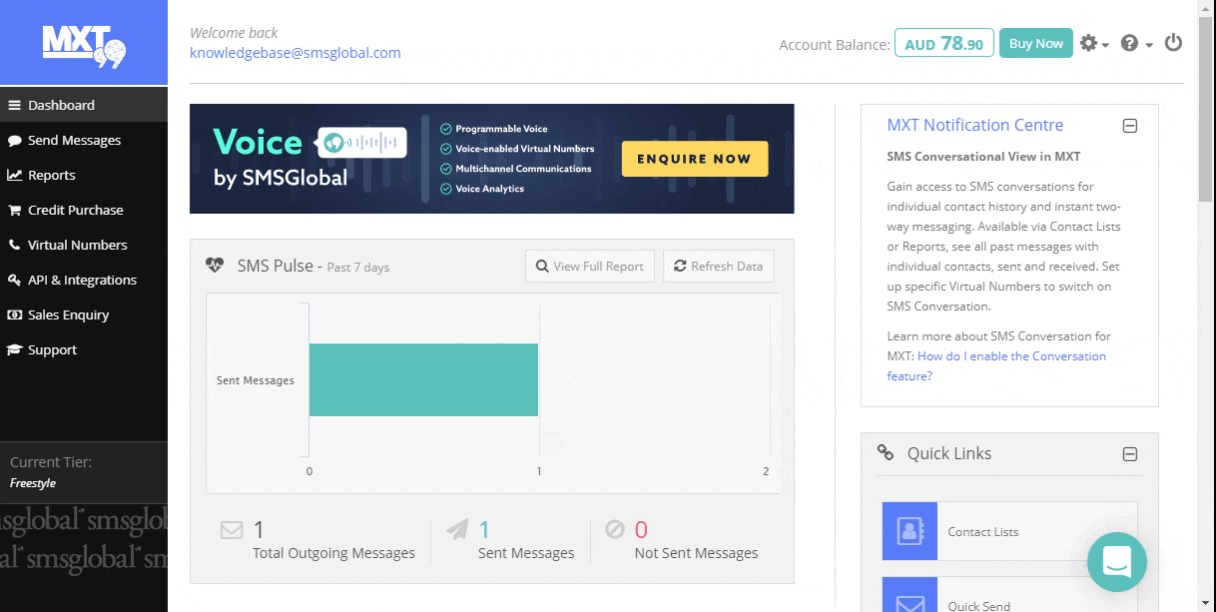 Addition of Opt-In Functionality via incoming SMS
New
We have added opt-in functionality via incoming SMS.
This is for recipients who have previously opted-out of SMS communication, but now wish to opt-in again.
To opt-in, users can reply with the following keywords:
Note: the keywords UNSTOP and START are NOT case sensitive.
MXT Conversation Window
New
MXT Conversation Window added for convenient two-way texting and to view SMS history. Access this function via Contact List and Report in MXT.
How do I enable the Conversation feature?
Two-Phase TLS upgrade [Phase One]
Improvement
The default protocol for HTTPS connections has upgraded to TLS 1.2 for postback. Continued support for TLS 1.0 and 1.1 by request.
Updated API endpoints
Improvement
All legacy API endpoints to be updated by end of February. To avoid disruption, migrate API endpoint www.smsglobal.com to api.smsglobal.com.
Addition of ex. GST amount to Australian invoices
Improvement
We have now added the ex. GST purchase total amount to our invoices, this is in addition to the previous GST amount included on invoices.
IP Address Update
Improvement
Infrastructure upgrade to ensure ongoing reliable service and security for APIs and integrations. See IP Address Update for further information.